3 Step Set for Perfect Holiday Hair

Perfect holidays mean perfect hair. The BRUSHOPOLIS High-Performance Style Team has created the perfect tools for achieving style perfection in easy 3 steps: prepping, styling and teasing with Prepping Paddle, Lady in Red and Teasedale.
STEP ONE. Monroe Prepping Paddle
THE performance wet brush to section and get hair ready for styling. Just brush through and use dryer to get hair about 70 percent dry. Then style. The Monroe Prepping Paddle is a first-step essential in the kits of celeb stylists worldwide.
STEP TWO. Monroe Lady In Red model 2235 (2.5")
An American Salon Magazine Editor's Pick, the Monroe Lady In Red brush has high performance ceramic technology that allows the brush to safely convey heat to the hair for a faster and smoother blow dry, accelerating the blow dry process.
This ceramic brush has short mixed boar bristles that allow for more tension and better performance. The Lady In Red is an amazing brush for creating very tight curls, for straightening the roots, blending along the hairline and styling short hair.
YOU HAVE: any type, medium-coarse hair, very curly
YOU WANT: fast performance, straightening, root control
STEP THREE. BRUSHOPOLIS Teasedale.
The Teasedale is a performance brush, engineered to create maximum volume with minimum breakage. 3 rows of 100% first-cut boar bristle, each at a different level, provide better traction than a traditional teasing brush, meaning you get more volume with fewer passes through the hair thus less breakage. The high-quality of the natural boar bristle is gentle on hair and extensions, evenly distributing product and your natural oils.
Watch Sally Rogerson HOW TO Tease Hair video here
SALE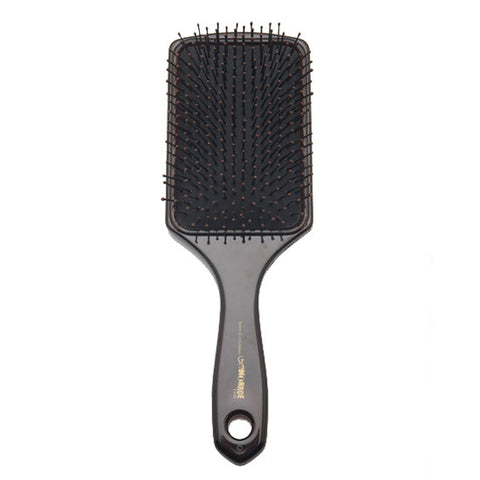 SALE