Professional Brush Set For All Hair Types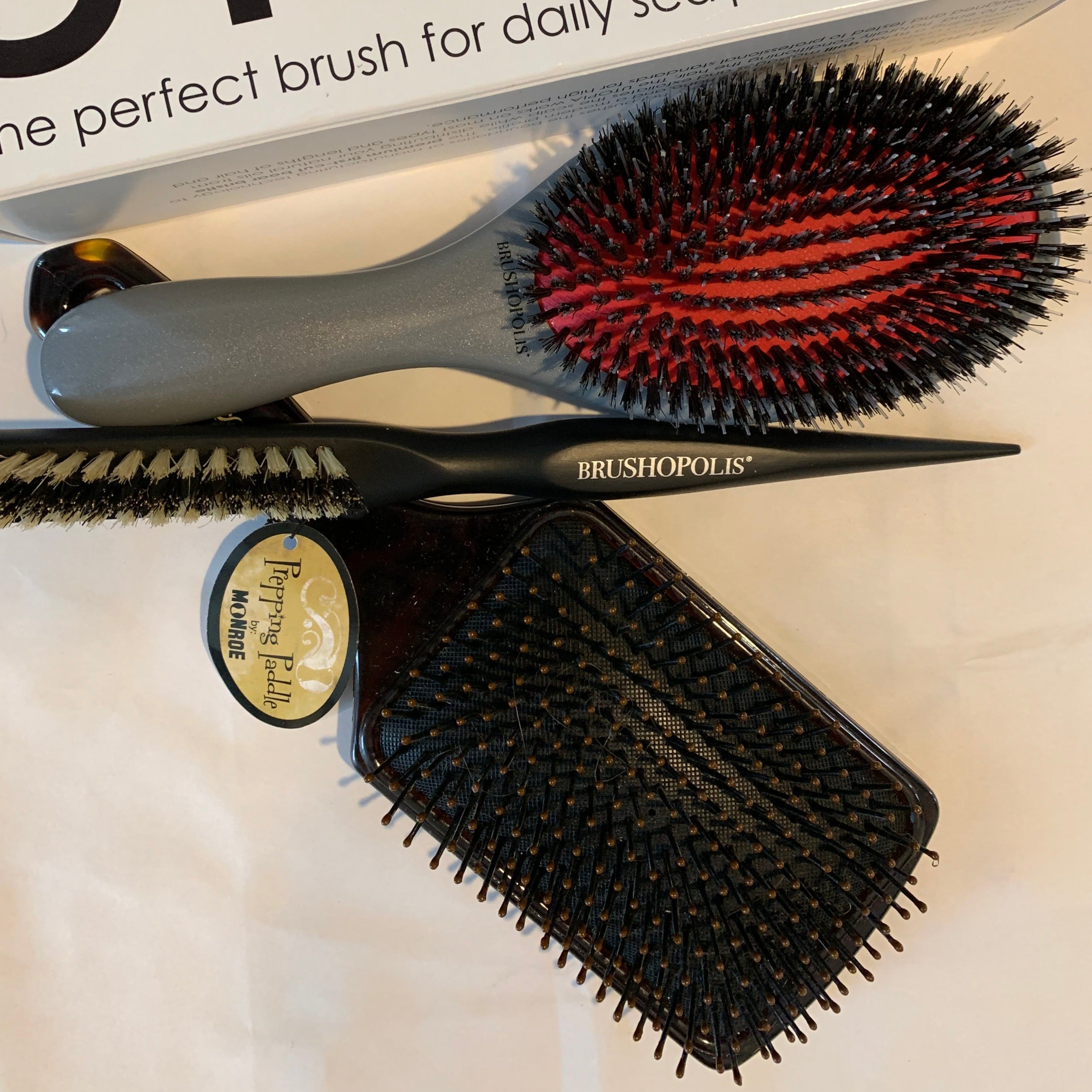 $125.00 $142.00
Free Shipping Over $50
Prep, style and finish your hair with the right tool for each step of your styling process! Get a reduced price, compared to buying the individual brushes, when you purchase this 3-brush set.
#1 PREP: Prepping Paddle
For wet hair detangling, sectioning and prep for blow-dry styling…The Monroe Prepping Paddle is designed to give you major detangling power, without stretching and breaking fragile wet hair! Lightweight and comfortable to use, it's the essential first step for detangling and sectioning wet hair in preparation for styling with your blow dryer and a Monroe round or oval brush.
#2 STYLE: Utopia Daily Scalp + Hair Health Brush

Take control of your hair. Designed for daily brushing and scalp and strand health, the Utopia is being used by top celebrity stylists. The premium first-cut boar bristle surrounding the nylon quill massages and exfoliates the scalp while distributing your natural oils from root to end. Works on all types and lengths of hair. The Utopia brush is designed to professional standards for high performance, a unique shape and 1st-cut premium boar bristle provide perfect tension and control, reduce blow-drying time, minimize probability of carpal tunnel, and make hair shiny & smooth. Proudly Manufactured in USA!

#3 FINISH: Teasedale
For controlled volume, up-dos, artistic styling and everyday refining...The Teasedale is a high-performance brush engineered to easily create maximum volume with minimum breakage. 3 rows of 100% first-cut boar bristle, each at a different level, provide better traction than a traditional teasing brush, meaning you get more volume with fewer passes through the hair thus less breakage.
The high-quality of the natural boar bristle is gentle on hair and extensions, evenly distributing product and your natural oils. The narrow head provides precision and control for refining everyday styles, like blending those baby hairs along your hair line (see how in this ).
Teasedale is made out of poplar wood...so it's hypoallergenic. Plus, the ergonomic shape makes it easy to use. This brush is sure to be your everyday fav!
FOR YOUR BEST BLOW-DRY EVER:
Use a professional dryer with directional nozzle pointing from roots to ends
Detangle and dry hair at least 70% with your Monroe Prepping Paddle
SEPARATE hair into sections with clips
LOAD a section that fits the bristle area of your Utopia

LOCK hair into bristles by pushing brush into hair at roots while slightly turning brush (about a quarter to a half rotation)
PULL brush straight thru to ends, following closely with dryer (there's no need to wind a Monroe hourglass brush)