MONROE ETIQUETTE hourglass round styling + finishing brush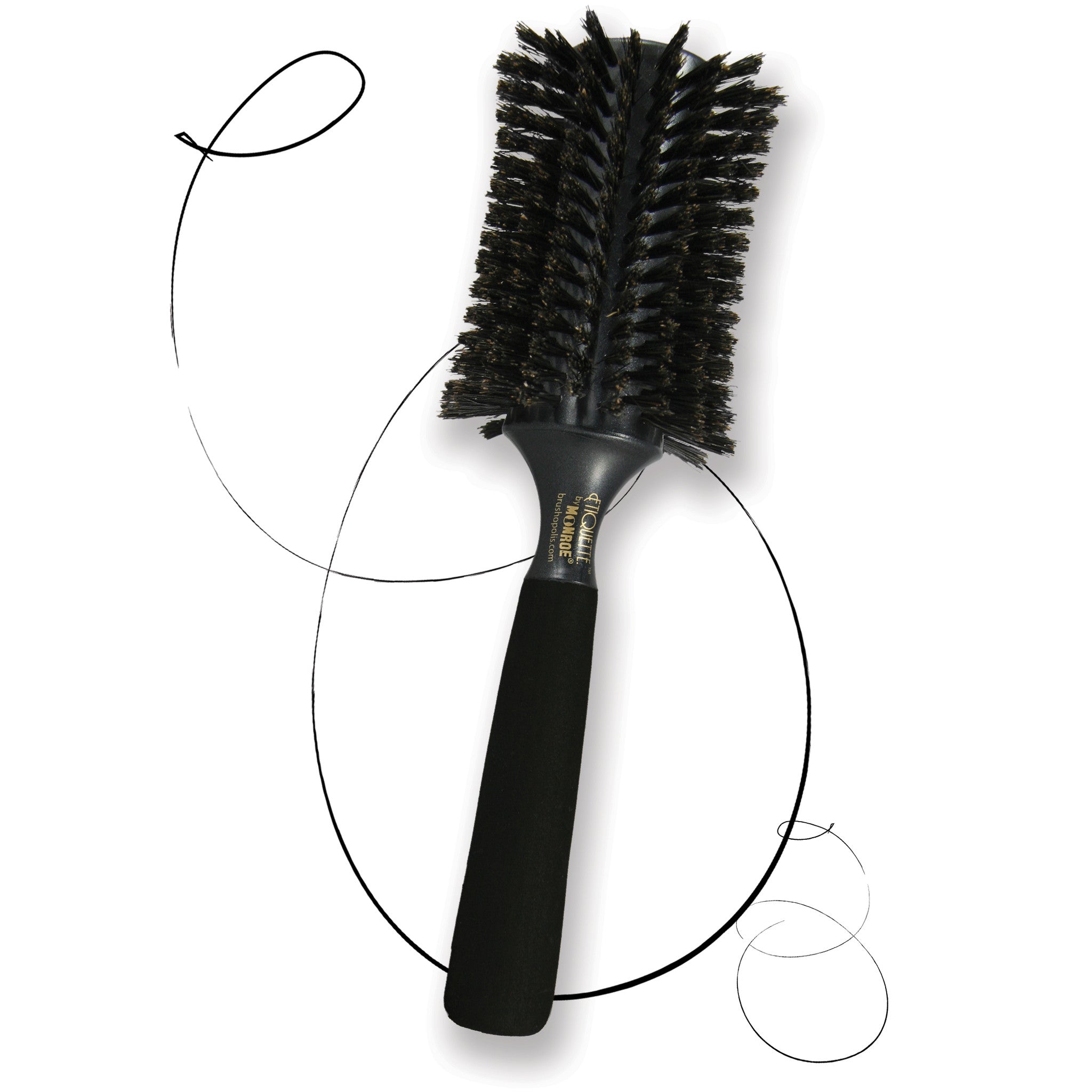 $75.00
Free Shipping Over $50
Proudly Manufactured in USA, the Monroe Etiquette is our most popular brush! Use it to style fine-medium hair* and to finish ends and add extra shine on all kinds of hair.
(*If you have medium-coarse, "difficult" or highly textured hair, check out our Mystique and Latina Envy for styling, then finish using Etiquette for an even smoother, shinier polish to locks and ends)
PRODUCT DETAILS
HAIR TYPES: any kind • fine-medium • dry • processed
RESULTS: Volume + Smooth + Added Shine
BARREL: hourglass round PolyDynamic High Heat Retention Core speeds drying time by up to 30%, is very durable, resists chipping, and holds the heat for creating multiple styling effects
BRISTLE: mineral infused 100% first-cut boar bristle for super smooth, silkier strands with less static 
SIZES AVAILABLE
MEDIUM: perfect for hair lengths and layers that are from chin to just below shoulder
More sizes coming soon! Post your perfect size on our Facebook page and we'll use your input to decide what to make next.
Need help deciding on a size? See our guidelines on the FAQ page
Check out this video to find out if this brush is right for you:

A Monroe hourglass brush is like no other...
A Professional Perk: Designed for Your Happiness
Monroe Hourglass Styling and Finishing Volumizing Hair Brushes provide maximum tension for straightening and/or creating waves, with a comfy soft handle that cushions your grip, and won't slip in your hand under wet conditions. The hourglass shape mirrors the shape of the scalp...creating equal tension. You get better grip on hair strands, and that means less stress on your wrist and more control over the hair. Just load, lock and pull thru.
A Mane Advantage: 100% First-Cut Boar Bristle
Highest quality first-cut boar is gentle on hair, distributes the natural oils and product from scalp to ends, and smooths the cuticle for added shine. High quality, first-cut boar bristle is quite expensive and that's what makes our brushes a little bit pricier, but the benefits make a world of difference to finishing hair.
A High-Speed Solution: High-tech Design and Materials
Our brushes are designed to get you out the door quickly. The natural bristle wicks away moisture faster than nylon bristle and our hourglass shape barrel provides maximum hair-to-air ratio for your blow-dryer (note always use a directional nozzle for control and smooth results). Our exclusive PolyDynamic High Heat Retention Core™ heats up to a perfect no-burn-zone temperature and holds the heat for creating multiple styling effects. A Monroe hourglass styling brush will speed your drying time up to 30% compared to a standard consumer-grade hair brush.